Local people look favourably on community owned wind turbines
Marketing Mean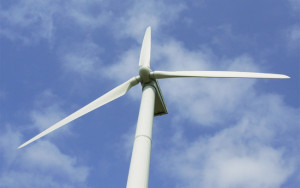 s has carried out a survey of 500 people in four wards in Cornwall (St. Dennis & Nanpean, St. Stephen-in-Brannel, St. Enoder, and Ladock) to explore residents' attitudes towards renewable energy projects.
The survey was commissioned by REG Windpower, a company which is proposing to build two three-turbine community owned wind farms north-east of St Stephen in Cornwall.
Polling results show nearly two-thirds of residents support the proposed community-owned wind farms on the brownfield sites at Scarcewater Tip and Pines Tip.
REG Windpower is pledging to offer 100% community ownership of two wind farm proposals on China Clay tips.  The wind farm projects, known as Pines Tip and Scarcewater Wind Farms and comprising three wind turbines each, would both be offered for community ownership with this offer secured by way of a legal agreement.
The survey shows that local support for the projects is more than three times greater than local opposition.  For Pines Tip, 63% of respondents were in favour with only 18% opposed.  At Scarcewater, 61% of respondents were supportive while 18% were opposed.  In both cases, the remainder were undecided or neutral.  The results can be accessed via this link:  Cornwall_survey_2015
The results of the polling in the area around the wind farm sites chime with nationwide polling by Cooperative Energy which shows "overwhelming" public backing for community-owned renewable energy projects, including wind farms.  It also reflects the results of nearby St Enoder Parish Council's Neighbourhood Plan questionnaire, which found 52% of respondents said that they would support a "community wind turbine, 100% owned by local residents, with any profits reinvested into facilities for the local community."
[1] http://www.edie.net/news/6/Poll-reveals-huge-public-support-for-community-energy-projects/